Teams and Walkers
Select A Team:
Sample Event


Join us on sample date
LET'S SPREAD HOLIDAY JOY TOGETHER!!
WHEN: Sunday, December 11, 2016 5-7pm (detailed schedule below)
WHERE: Santa Margarita Catholic High School track
22062 Antonio Pkwy, Rancho Santa Margarita, California 92688
WHY: Raise funds, increase awareness, have fun, and further Jessie's wish to encourage all kids fighting cancer to
NEVER EVER GIVE UP!
WHAT TO WEAR:
Spirited holiday attire (we will stroll rain or shine!)
COST:
$20 suggested donation = One of Jessie's JoyJars will be sent to a Courageous Kid fighting cancer!
When you register for Santa Stroll we ask that you commit to donating or raising a minimum of $20 – this will ensure at least one of Jessie's JoyJars will be delivered to a child fighting cancer thanks to your participation! But don't stop there - spread the word! Telling Jessie's story of compassion is addicting! Share Jessie's story with your friends, family, neighbors, team, church, school, teachers, etc. People will be encouraged by you and your heart for wanting to help kids fighting cancer to
NEVER EVER GIVE UP
. The more money you raise, the more Courageous Kids fighting cancer get a boost of JOY and ENCOURAGEMENT thanks to YOU!
INCENTIVES
While you are busy raising funds to encourage others, we want to encourage you with some added incentives. Each individual* "fun-raiser" registered at santastroll.teamnegu.org who raises a minimum of $100 will receive a special edition commemorative short sleeve t-shirt.
For those individuals who raise $100 by
December 1, 2016
you may pick up your shirt the day of the event.
*Incentives are based off individual earnings, not team earnings.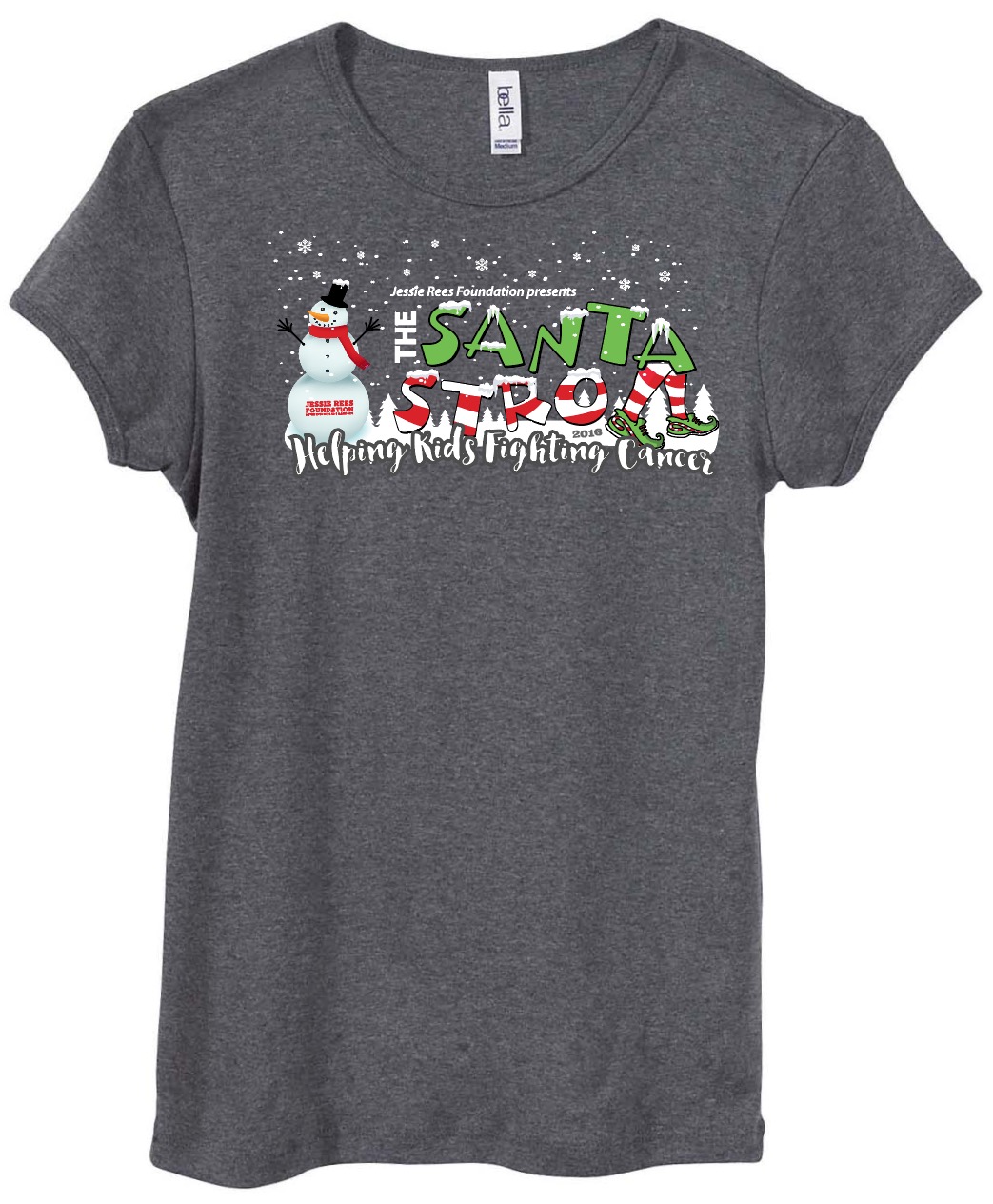 Womens style pictured - Mens / childrens crew also available. Color and style may vary.
In addition, each individual also has the opportunity to earn the following:
Raise $250 – "NEGU on the go Fun Pack" (NEGU lunch bag and 2 NEGU snap back caps)
Raise $500 – "Cozy up with NEGU" (NEGU blanket and 2 hot/cold NEGU stainless steel drink bottles)
Raise $5000 - 2 tickets to the NEGU Gala - March 25, 2017
All incentive items earned will be calculated based on the individual money raised as of 10am, Dec 13, 2016. Any cash or checks collected and turned in at the event, will be included in the individual's "fun-raising" total. Travel costs for NEGU Gala not included.
Note: the commemorative t-shirt in the incentive program outlined above is available only through the individual "fun-raising" program and will be fulfilled approximately 30 days after the event (with the exception of commemorative shirts earned prior to Dec 1 as noted above).

Don't want to "fun-raise" but want to stroll with us … we would still love to have you join us!!

SCHEDULE
5:00 - 5:30pm Sign in and enjoy multiple photo locations to capture some fun memories
5:30 - 6:16pm Stroll, walk, run around the track while showing off your spirited holiday attire
6:16 - 7:00pm Hot chocolate, Chick-fil-A cookies, Starbucks coffee, Krispy Kreme donuts, opportunity drawings, special photo / meet and greet, and other fun activities. You may want to bring your mittens - forecast shows possible "snow storm" heading our way!